"Nothing's Going to Change if We Don't Understand Each Other"
HSBC's Gender Neutral Titles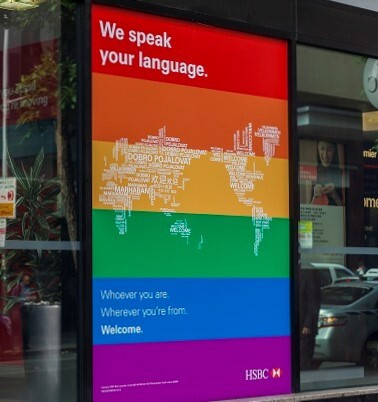 Banking group HSBC has taken a step towards transgender inclusivity as they announced they will now offer gender neutral titles for account holders. The decision was announced on Friday, coinciding with International Transgender Day of Visibility.
HSBC's previous transgender option was limited to only "Mx", however this title limits the identities of many transgender customers. Customers will now have an additional 9 options to choose from, allowing them to better identify with their prefix title.
Mx – tertiary option to Mrs or Mr
Ind – "individual"
Mre – "mystery"
Msr – combination of 'Miss 'and 'Sir'
Misc- "miscellaneous"
Pr – "person"
Sai – gender neurtal term used in Asia
Ser – gender neurtal term used in Latin America
M – gender neurtal abbreviation used in France
Myr – gender neurtal term used in other parts of the world
Stuart Barette, Trans Lead of HSBC UK Pride Network, shares his nerve-wracking experience of having to go into branch and change his gender and name for his accounts. The decision to include more prefix options came partly from employee feedback, saysBarette
In order for transgender customers not to be met with uncertainty at HSBC, Barette explains that the bank has arranged training for branch and call centre staff. "I think training is really important – if people understand the challenges people face, then we can change; otherwise nothing's going to change if we don't understand each other".
HSBC UK's Head of Retail Stuart Haire explains that "we will continue working with our LGBT+ colleagues and customers to ensure we're getting it right".
Here at PrideAM, we applaud this inclusive step. Both the transitioning period and coming out can be very difficult to do – especially if you do not know what reactions you might be met with. We are very pleased to see HSBC support its transgender customers by taking the pressure out of conforming to 'traditional' titles and allowing their customers to identify in a way that best suits them. Furthermore, we applaud the work going on behind-the-scenes: taking the time to correctly and appropriately train staff and to promote better understanding.
Since the story released on Friday, Lloyds Baking Group, Royal Bank of Scotland, and Barclay's reportedly now have plans to follow suit. Although HSBC's news has received overwhelming positivity, activist Peter Tatchell has doubts. Tatchell, who generally supports HSBC's decision, has suggested that the move risks attracting ridicule, and questions whether 10 options is "necessary".
However, we support for HSBC for meeting the needs of its transgender clientele, and believe that these new options will better suit customers, and encourage other businesses to do the same. Well done HSBC!