The PrideAM 1 Year Anniversary
Time flies when you're having... a special rainbow birthday cake made by Mr Moms.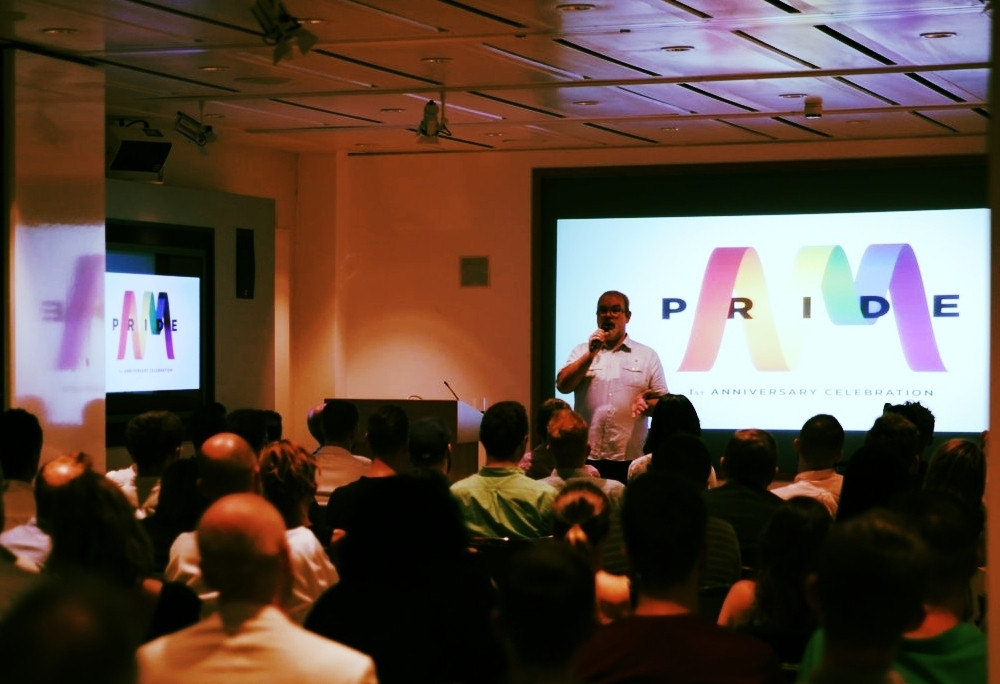 Time flies when you're having…a special rainbow birthday cake made by Mr Moms.
On what turned out to be a lovely late Indian summer's afternoon, kindly hosted by JWT London, approximately 100 of the advertising and marketing industry's finest gathered to celebrate PrideAM's very first anniversary.
The evening started with a welcome outgoing President Scott Knox. Not just outgoing due to his personality, but rather his UK residency as Scott is soon leaving the UK to become President and Chief Executive of the Institute of Communications Agencies in Canada. Over the past 12 months, Scott has worked to grow PrideAM's membership base and has generated headlines in the industry and campaignssuch the collaboration with DIVA: "Sex sells, but what about sexuality?". As he heads across the Atlantic Scott will be working to set up PrideAM North America and we look forward to the next step in his adventure.
Scott was followed on the night by Mark Runacus of Karmarama who presented findings from our first ever whitepaper: Outvertising. It's a guide with practical advice on how agencies and in-house teams can work to better represent LGBT+ audiences in all of their work. It's timely too, given the BBC has today announced that it will consider LGBT and racial diversity of producers when commissioning shows. As the content becomes more diverse, so too should the advertising that encompasses it. Head here to download the whitepaper.
Before everyone headed up to JWT's lovely roof terrace, a panel discussion, hosted by Asad Dhunna, delved into the state of affairs in the industry and beyond. The panel line-up included Matthew Todd, Editorial Director at Attitude Magazine; Asifa Lahore, Britain's First Out Muslim Drag Queen; Emma Woollcott, Legal Director at Mischon de Reya; Colin Rothbart, Producer and Director; Stephen Laughton, Playwright; and Simon Wright, Head of Talent at UKTV. The discussion covered questions such as why we've felt invisible in advertising to the difference between inclusion and tokenism and could have gone on for hours.
Luckily it didn't and we were soon able to cut a cake and reflect back on a year of coming together and forming a group that is set on changing the industry. If you're interested in finding out more about how you can get involved, click here.